Minion Thimble Set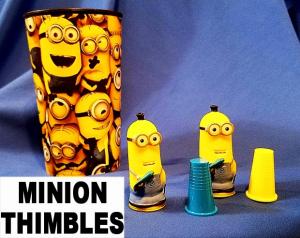 They vanish! They reappear! They drive kids crazy with their wild antics! This is a set of four thimbles: One Blue, one yellow, two matching officially licensed minion characters thimbles PLUS! an officially licensed gimmicked minion cup for all sorts of different magic limited only by your imagination. Instructions included for sample routines. Matched Minion thimble Minion character may vary from picture.
FREE Shipping & Handling Inside The United States!!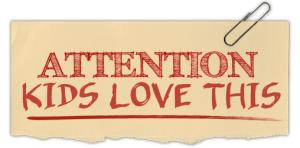 The "Not So Instant Magician" Costume Set

The problem with the well known "Instant Magician" routine, is that in this day and age, standing behind a small child and operating him or her like a puppet is Not acceptable! This costume set allows you to have all the fun and photo opportunities of the original routine with none of the bad overtones. Use it for Any routine with a volunteer, kids OR Adults, for lots of laughs and fun! Comes complete with a beautiful tuxedo bib front, foam top hat for easy transportation, and plain black cape (Robert added sparkles to his, you can do the same with yours). Note: The full paper routine that Robert is doing in the video is also available here, by clicking this link: Baxt's Mouthcoil Routine
FREE Shipping & Handling Inside The United States!!
Baxt's Better Book Test: Divergent Edition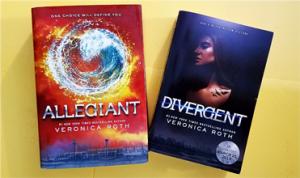 The magician and mindreader asks the audience how many thousands of words they think there are in a book, whatever the answer, he doubles that number by bringing out 2 books! Letting a spectator have a perfectly free choice of either book of the two (NO FORCE!), the mentalist asks that person to check the book and make sure it is a perfectly legitimate book. The spectator can examine it all they want and they will agree it is an ordinary book! Going to different random volunteers, the performer asks them to examine the second book that the first person did not choose. Again, this second person can examine it all they want and will confirm it is an ordinary book. The mindreader now asks this second person to choose any page number from their book, and this person can check to make sure that every page is indeed legitimately numbered differently. Once the page number is chosen, the magician asks the first person to turn to the corresponding page from their book, the one they have been holding and safeguarding all this time; and check it to make sure that the page number chosen is not a blank page, illustration page, or chapter heading page with just a number, etc. If the page in the first book does indeed have printed words on it, the mentalist can correctly predict the first or last words on that page. ALLEGIANT SERIES OF BOOKS ONLY! For other titles click here: "Baxt's Better Book Test"
FREE Shipping & Handling Inside The United States!!