Want your people to have a great time? Whether they're people who barely use a computer, or seasoned pros, include the link to this page in all your invitations and urge everyone to read it so they can have the best experience. 🙂
IF YOU ARE HOSTING THE MEETING:
-Send invitations to your guests as soon as possible and be sure that I, Robert, get an invitation with the link well in advance.
Once I sign in on the day of the event, make me, Robert, a cohost.

When I join the meeting, Spotlight me and put me in Speaker view

If you're unclear on how to do this, let me know and we will schedule a practice session so I can show you how! 🙂

If I'm hosting the meeting, I will get you a Zoom Meeting Link to send to all your guests.

Send follow up emails to everyone on your guest list both the day before and the morning of your event. You'd be shocked how many people forget!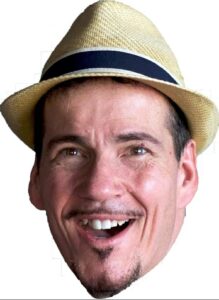 ZOOM SHOW GUIDELINES FOR A GREAT SHOW!
GUESTS: READ THESE POINTERS TO HAVE THE BEST EXPERIENCE…
• You will have the best experience and better connection with the latest version of Zoom. Upgrade to the latest version of Zoom! It's currently 5.6.4
• Dress nice and clean up the area where you will be watching from. Everyone will see you and you don't want everyone to see your bellybuttons or stinky feet. 🙂
• The performer has to see your faces to do part of the show and if there is a window or light behind you, you will be in shadow, so don't sit where there's windows or lights behind you.
• Let family members know that there will be a show and that other people will be seen and heard. Dogs and animals should be put in another room or outside so they don't disturb. Everyone in the house should know what is going on. Make sure Dad is not walking by in his underwear on the way to the bathroom! 🙂
• Adults: Take pictures of your family watching the screen and send them to the host. It's a great memory of the party in this strange time that will be cherished for years to come.
• Make sure that everyone knows to sign in at the right time! If you're in a different time zone than where the party is being held, double check to make sure you're clear on the correct time for where you are to sign in.
• We will give everyone a few minutes to get signed in and make sure their camera and sound is working and to say hello and to chat with each other before the show.
• Don't use a virtual background. Kids especially go crazy changing their backgrounds during the show and spend more time playing with the Zoom controls than watching the show and being part of the party.
• Turn your video on and do not use an avatar, a cat filter, or silhouette like this:
The performer uses audience participation in some parts of the show and has to be able to see people.
• Use your proper names for your screen names and not funny names like "space cat" or "Nintendo Master". Make sure the screen name is not "Mom's iPad" or something similar. This way the magician can call on people by their real names.
• Have fun and enjoy the live show that is personalized just for you! 🙂