Baxt's "Red Bull" with a Twist! The Better Bandana/Banana Comedy Routine

Another classic updated that's perfect for adult, family, and kid shows!

NOW WITH ENGLISH ACCENTED AUDIO!!!!
Magicians, Clowns, Puppeteers, and Ventriloquists can use it to add more material to their act. 5 minutes of prepackaged comedy and magic where you don't have to do anything but follow along to the audio instructions! 4 DIFFERENT AUDIO TRACKS INCLUDED! ACCENTED & UN-ACCENTED!!!!!
Corporate crowds adore it! CHILDREN LOVE IT!
Explaining that everything is manufactured overseas these days, the performer mentions that sometimes errors creep into the translation. Showing a new item you've just gotten, the performer proceeds to demonstrate to hilarious results!
Comes with the custom designed and handmade puppet; specially made change bag, recorded audio instructions, a DVD of the explanation and detailed instructions, plus bonus extras!
Additional ending included on the audio instructions so you can extend the routine!
An EXTRA easy to do comedy routine
so you can really focus on the laughs!
Better than the old bandana/banana trick for many, many, reasons:
•No banana mess on your hands or on your devils' handkerchief prop to clean up after every show!
•A much easier set-up without having to get fresh fruit for every show!
•It's different and unique from the standard bandana/banana routine that everyone else does, so you stand out from the crowd!
•Ends on a startling production rather than a confusing vanish!
•The performer does not come across as an idiot who doesn't know the difference between the words "bandana" and "banana"!
•The set-up line: "many things are outsourced and made overseas" is something a large majority of audiences can immediately relate to!
•Red Bull Energy Drink is a globally known product with massive advertising behind it so that all ages immediately recognize it!
THE REVIEWS ARE IN! FIVE STARS

★★★★★

PEOPLE WHO BOUGHT IT LOVE IT!
"Baxt's Red Bull doesn't just kill five minutes, it kills period!!" – David Zirbel, Illusionist on the CW Network's "Masters of Illusion" TV Show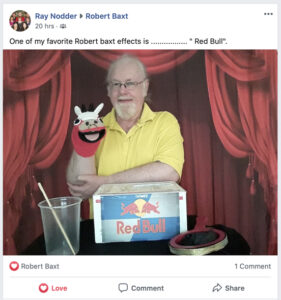 "This is great! Just what I needed for my shows on the Disney Cruise Line. Robert, you're a comedy genius! – Well known Cruise Ship Ventriloquist and Magician Mark Merchant
It is a very funny trick! I loved it! My favorite moment is stirring the puppet, watching his face go round and round in the cup. Very funny. You are right. I have always disliked the banana because the dumb magician can't HEAR the different words. I love that in your trick it is the same word. Very smart. Great job!
-Silly Billy a.k.a. David Kaye, "Acclaimed author of "Seriously Silly" How to Entertain Children with Magic and Comedy"
Robert did Red Bull at my magic club meeting and it went well, but more importantly, I did it today in a show and the audience loved it! Went over really well. You may quote me. Thank you, Robert!
-Michael L. Reist, "The Amazing Magi"
"…have a blast performing this jewel of a routine…Mr. Baxt lets you in on some amazing never-before-revealed secrets…So, if you're looking for a great little routine to showcase your comedic personality, look no further than The World's Funniest Mouthcoil Routine."
-Payne Fifield, Reviewer M-U-M Magazine
I, Gary Kelton, just bought the Red Bull routine and it is a HOOT! Using the "broken English" -ha ha ha ha -is absolutely perfect for the routine. I laughed and laughed – If you want a great comedy bit, get Red Bull With a Twist! Possibly the Best $205 I ever spent! (I bought the Cereal Box Trick, your Mouthcoil DVD, and your lecture notes). FACEBOOK: Like!
GET YOURS TODAY! LIMITED QUANTITIES!! WHEN THEY'RE GONE, THEY ARE GONE!
(Note: Change Bag color may vary. Random color will be supplied).
RED BULL IS A NATIONALLY RECOGNIZED WORLDWIDE BRAND! BENEFIT FROM THEIR ADVERTISING TO MAKE YOUR SHOW GREAT!
(Red Bull Energy drink is a licensed, registered and trademarked product and all logos, can design, and related indicia used herein are copyright Red Bull N.A. Inc)
With FREE Shipping Inside The United States! Red Bull with a Twist! $82.95 USD
OUTSIDE The United States $112.95 With Priority Airmail Shipping to get anywhere within 10 business days. BUT! Order other select other items and get combined shipping at a discount!! Email robert@robertbaxt.com with your order to calculate postage.