NEW! MAGICPAD: The Trick for your Tech!
Another great comedy prop from the mind of Robert Baxt
Here's the one you've been waiting for! A trick with a tablet or "eye"-pad! A quality utility device that looks like a perfectly ordinary tablet holder but allows you to magically and amusingly switch, change, vanish, or appear any flat item like iPads, tablets, a pad of papers, envelopes, jumbo playing cards, credit cards, currency, and other objects!
A GREAT CROWD-PLEASING TRICK! AND THE PERFECT ICEBREAKER FOR ANY CORPORATE EVENT, MEETING, OR SPEECH!
•Do iPad magic where something comes out of the tablet screen? Now the tablet itself can appear, vanish, or change as an incredible addition to your routine!
The ideas are limited only by your imagination!
Perfect for Cruise Ship Performers, Weddings, Birthday Parties, School Shows, Mentalists, Gospel Workers, and anyone who has a Tablet!! Use it to "Magicially" change pictures and signs:
Francis Menotti, reviewing it for the May 2016 issue of MAGIC Magazine, had this to say: "The advertising video doesn't do it justice. The expectations I had for the quality and versatility of the MAGICPAD were far exceeded. The MAGICPAD is well made and is a classy item."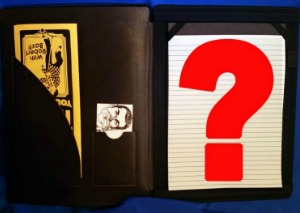 THE REVIEWS ARE IN! FIVE STARS ★★★★★ PEOPLE WHO BOUGHT IT LOVE IT!
"I like mine so much that I'm thinking of getting a backup since I know they won't be around forever. The McCombical Deck has been in my show for years and I now use the pad to switch the prediction card."
-Charles Windley, Norfolk, Virginia
"My MagicPad arrived in Hong Kong yesterday and it's a quality product! Great product and application of an old idea!"
-Bernard Mariano, Hong Kong
"I want to say your MAGICPAD trick is fantastic! What a fun, well-made contemporary prop that delivers a great moment of magic! This will go right into my act for my work as an Emcee."
-Bruce Gold, Los Angeles, CA
"I got mine last week and they are amazing!! Very well made and they look great too!! A stupendous piece of magic that is perfect for use in today's high-tech world!!"
-Mark Wurst, Manahawkin, New Jersey
"Received my pad and very happy. A well designed, well-built device… now wishing I took advantage of the "buy a second unit" offer. Congrats to you."
-Scott Horn, McKinney, TX
"Hey Robert, just wanted to let you know I used the MAGICPAD today in a show, it went over great, and I combined it with another trick for a great routine. I can give you my review… I'm so glad I've added it to my show. It gets a great reaction every time!"
-Terry Owens, Fort Wayne, Indiana
"Mine was delivered yesterday to Germany! Great item, great timing before Christmas! Made me happy!"
-Jörg Tragert, Germany
"I just got mine. …Great craftsmanship, worth every penny. Magic tricks, in my opinion, are normally very cheaply made. Well done – Bravo! I hope my son will use it well."
-Trevor Bludis, KickStarter.com
"Hi Robert, I just got the magic iPad case. It is a thing of beauty. I love it. Congratulations and cheers on such a brilliant piece!"
-Robin Channing, Westbury, NY
"I thought it was such a good idea, I purchased TWO of them! They are terrific."
-Steve Trash, The Upcycling Illusionist
"MagicPad is the best full size switching pad on the market. What's better than that? It is also a hilarious technology iPopping magic trick!!! Highly recommended! "
-Dave Johnson, Las Vegas, Nevada
"I purchased two, …and realized that they are so well made I only need one!"
-Mark Zust, Westlake, Ohio
AVAILABILITY IS LIMITED. DON'T DELAY! WHEN THEY'RE GONE, THEY'RE GONE!
•Do you use an iPad to play your music during your show? Make your iPad appear by Magic and be part of the show!!
•Got a special message you want to get across for your client or event? Use the MAGICPAD to change one sign to another magically!!
Can be done close up, in a living room, or on stage!
PLUS! It can be used as your everyday normal tablet case!
Packs Flat & Plays BIG!
Comes complete with the elegant, imitation leather, dark brown, pebble finish case measuring 11.25 inches by 8.4 inches (28.575 cm. by 21.386 cm.), a pad of paper, AND both video and written instructions with many ideas, routines, and suggestions. TABLET NOT INCLUDED!
Get This While Supplies Last!
FREE Priority Shipping Inside The United States! MAGICPAD Trick Tablet Case $82.00 USD
Outside The United States ONLY $119.35 Shipping & Handling By Priorty International Air Mail BUT! Order more than one item from this site and shipping is combined for more savings! Email robert@robertbaxt.com with your complete order for shipping charges.