Baxt's "FAMILY" 3 Rope Routine DVD with Ropes, plus two other routines!

"A Heartwarming & Very Magical Piece Of Art"
Robert shares this charming and heartwarming story with the audience at the famous Magic Castle Nightclub in Hollywood, California. The tug at the heartstrings in this performance makes it the greatest routine for all Family Events, Kid Shows, School Shows, Library Shows, Church Groups, and anytime you want to bond with an audience and show some personality. It's the perfect routine for any show!
PLUS! The "Naughty & Nice Family" 3 Rope DVD includes presentations for two other very clever and commercial routines for the classic Professor's Nightmare rope trick!
You get the "Nice" routine, the charming and heartwarming version as seen in the video.
You get the "Naughty" routine, a more adult, but IN NO WAY RISQUE OR RUDE, routine to music with rhyming patter that takes the trick where no one else has dared to go!
And you get a corporate routine that's perfect for trade shows and any and all business events where you perform that stresses the company's product!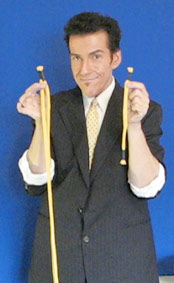 Another classic updated that's perfect for adult, family, and kid shows!
A GREAT CROWD PLEASING TRICK THAT STUNS THEM!
This is as close to 'the perfect trick' as you can get. It packs small, plays big, requires no reset and is always ready to go. It fits in your pocket and plays everywhere! But Robert's script really takes it to the next level. You'll see a live performance and learn from a detailed tutorial on the DVD.
Get It. (Especially for the "Nice" routine). Study it. Learn it. Practice it. and you'll always be ready with a solid five-minute story-telling routine to amaze kids and their families, and any group where you want them to love you!
Three Great Different Routines With Just ONE Trick!

Famous Comedy Magician Michael Finney said about Robert's "Nice" Rope Routine:
"Just watched your Professor's Nightmare routine. Awesome, great, brilliant. I mean it, the message is spot on. I just want you to know how impressed I was with the message. It's those things that are so important to me these days. You hit a home run."

IT SOLD OUT AT THE RECENT GOLDFINGER AND DOVE LECTURE AT THE MAGIC CASTLE IN HOLLYWOOD!




Jack & Dove Goldfinger say: "They should get it because success leaves clues!"

Get it with or Without ropes for U.S. Customers. International Orders Get it with No Ropes, supply your own, or you can pay extra for the added shipping to include Ropes. COMBINED DISCOUNT SHIPPING ON INTERNATIONAL ORDERS WHEN YOU ORDER ADDITIONAL SELECT ITEMS! Email robert@robertbaxt.com with your order for combined shipping charges.

FREE Shipping Inside The United States for $28.95 with PROFESSIONAL SET OF STAGE LENGTH SIZE ROPES INCLUDED!

WITHOUT THE ROPES, OR FOR OUTSIDE the U.S. SHIPPING: GET THE DVD ALONE FOR $19.95 WITH NO PACKAGING, NO ROPES, BUT SENT AIRMAIL INTERNATIONALLY