Baxt's COMICAL Comic Book Prediction!
Mentalism that Matters!/Perfect for Reading & Library Shows!

SUPERHEROES ARE HOT!
They're the basis for movies, TV shows, and tons of merchandise! And Robert has done it again with another routine straight out of his performing repertoire! A pack small, play BIG number that has audience interest AND mass appeal! No playing cards or ESP symbols because regular audience members don't relate to them; but instead Super Hero Comic Books because of every movie, TV show, video game, and t-shirt that's based on them! Here's the set-up: The performer displays a prediction inside a large envelope before he begins. An attractive carrying case with handle is then shown and opened to display a variety of Comic Books. Jokes are made about different heroes and the spectator has absolutely free choices throughout the routine as the 6 vintage comic books are randomly eliminated, one by one until only a final comic book remains.
Wonder of wonders, miracle of miracles: The performers prediction is revealed to be a duplicate comic book that matches the selcted one!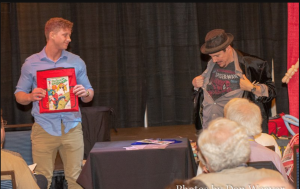 YOU CAN BE WEARING A MATCHING SUPERHERO T-SHIRT UNDER YOUR SHIRT! (Supply your own t-shirt)

A GREAT CROWD PLEASING TRICK THAT STUNS THEM!

Easy to do! No complicated sleight of hand or memorization!

Comes with the elegant fabric holder and display case AND a set of 7 authentic bagged and boarded vintage comic books included!

Fills the stage, but folds up to

become its

own attractive carrying case with a handle

that's 11.5″ x 14″ inches closed. Unfolds to a large 34″ X 28″ inches!

Comes complete with everything you need to do this crowd-pleasing

prediction PLUS Robert's instructions that include

his funny lines, jokes, gags, and tips on presentation!

Perfect for Cruise Ship Performers, Weddings, Birthday Parties, Youth Ministry workers, School Shows, Libraries, & Mentalists!

Can be done in a living room or on stage!

AND! It's customizable for different types of shows!

PRAISE FROM THOSE WHO OWN IT:

"This is really visual and colorful! Packs small and plays big!!! AND IT FITS MY THEORY: That if you invoke a spectator's experience they already have… it makes that effect much bigger and the Experience much larger and more enjoyable."
-Dr. Christopher Faria, Ph.D., founder of the Mesmer's Mansion Facebook Group for Mentalists, and full member of Psycrets, the British Society of Mystery Entertainers

"Visual, relatable, interactive, and customizable. It packs light and plays big!"
-Paul Draper, Mentalist Las Vegas, NV.

"Hey Robert, all I can say is WOW! Your Comical Comic Book Prediction has it all. The jokes are great, the handling is easy, and the payoff is amazing! I can't remember the last time I ordered a magic effect that was complete and ready to go when it arrived. It's a perfect mentalism routine for kids, families, and adult functions. Kudos to you."
-David Levitan, Trademark Special Events

"I own several of your products such as Computer Cutie, Red Bull, Coin Pail, Baxt A Boy, And a Bucket DVD, Mouth Coil DVD, and now this. I received the Comical Comic Book Prediction. I am very pleased with the effect. The effect is great…"
-magician Rodney Palmer, Michigan

"There are certain effects that when you initially see a demo and what props are included with the effect you immediately have a good feeling knowing you will use it. well, this was one of them for me. So many ways the prop/idea can be used and when performed correctly will be a great fooler for layman along with a very entertaining routine. I felt the price is spot on for this. You can get a lot of mileage out of this prop and routine, not to mention the "Packs Flat Plays Big" concept definitely applies here. The props are very nice. I love the holder and when its opened there is a nice display for the audience. I really like how this can be customized to fit any venue. Robert includes some nice/funny taglines when talking about comic books. " -RNK on www.themagiccafe.com/forums/Robert Baxt's Comical Comic Book Prediction

-Got a corporate event? Predict which product will be chosen!

-All Female group? Different magazines like Oprah, Vogue, Us, & People can be used!

-Doing shows for the little ones? You can use different cartoon characters from their favorite films & TV shows!

-Halloween and Spooky? Predict whether a ghost, pumpkin, vampire, black cat, monster, or alien will be chosen.

-Older Crowd? Show the magazines they find in a Doctor's Waiting room!

-Murder Mystery? Predict which villain committed the crime!

-Birthday Party? Predict the chosen present!

-Holds any magazines, pictures, or cards up to 12 x 9 inches!

NOTE: COMIC BOOKS VARY FROM SET TO SET, BUT ALWAYS INCLUDE AN ASSORTMENT THAT CONTAINS AT LEAST 4 RECOGNIZABLE TITLES FROM BOTH MARVEL & DC COMICS.

LIMITED Introductory Price: $92.95 with FREE! shipping and handling INSIDE the United States.

(Note: Comic Books vary with every set).

FREE Priority Shipping Inside The United States $92.95 USD

OUTSIDE THE UNITED STATES: $134.95 with Priority International Airmail Shipping included AND email Robert at robert@robertbaxt.com to learn how you can combine International shipping with the purchase of select other items from this website to save on shipping!